Sore Feet
by Richard Svensson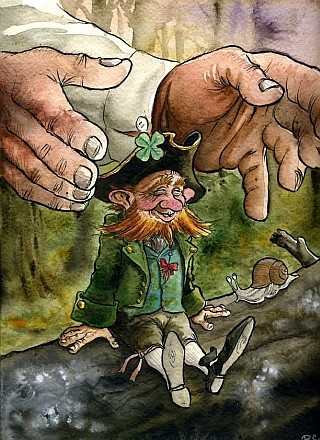 Illustration © 2007 by Richard Svensson
A Leprechaun's Tale
You'll not believe with your ears what happened to me
When I walked in the forest not far from the street.
Out for a stroll I went walking one night
And I caught for myself a terrible fright.
I decided when I found a fallen tree
To sit myself down and rest me sore feet.
So down I did sit and me feet I did rest
When there came such a sound as to scare me to death.
From behind me jumped a giant of such a great size
I could nay hardly believe me eyes!
He reached and he grabbed at me very self
I screeched and I screamed and I hollered for help!
He was after me gold, sure as I stand
But I got away, so quickly I ran.
I forgot all about me feet being sore
And did nay stop running 'til I reached me own door!
So believe me young Leprechauns when I tell ye this:
Big people are real; they truly exist!
Show more